Remember way back to last week when we talked about my secretary desk faux pas? (you can catch up
here
).
Well, as promised I am sharing what is now in my bare space.....my exciting reveal is that I made my new buffet -- and we love it!
I had been eying the
buffet plans
on
Knock-Off Wood
for a while -- wondering if I could do it, planning what I would need, calling hardware stores, researching prices and generally over-analyzing my urge to build it.
I summoned the courage to just go to Home Depot and get what I needed (although I LOVE Menards, Home Depot had much more wood, better quality wood plus they have an awesome cutting station).
I knocked (pun intended!) this beauty out in only a week. I never realized just how rewarding wood-working is. I love seeing everything come together -- it's like the ultimate makeover!
Check out the awesome transformation:
Here's "the box" plus legs (note I had already made a little flub -- the top is supposed to be one big piece across with no edges showing -- don't worry I fixed it with an additional piece!)
Trimmed out! Can you see that the top is a little different from Ana's plans? I added another piece of wood to the top and made the trim around it flush with the base. I wish I hadn't messed up -- but I think it's a pretty good job of covering up the mishap!
Okay -- I got passed the hardest part -- the drawers. I love Ana's trick of running Vaseline along the inside to make them slide better -- worked like a charm!
Almost finished here......
Can't believe how well it fits in our house!
Here's some close ups of my details on tops:
And the baskets below? An extra blanket for the couch, newspapers and magazines and Ruby's toy box!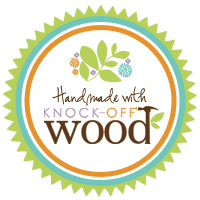 Can I just say again how much I love Ana's plans??!? Just amazing!