Since I'm focusing on my bedroom this week I'll keep going with another post on my cozy little room. And if you didn't notice from the
previous posts
, it is a little, cozy room. Although it's not the ideal size, we love our room just the same and we've learned to take advantage of all kins of little storage tricks to make sure our room can hold everything it needs to while still being uncluttered so we can sleep peacefully.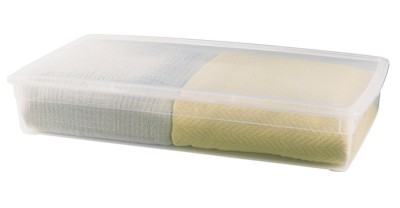 I won't show you the dust-bunnies underneath our bed, but underneath our bed we have some wonderful storage containers. These containers hold winter clothes in the summer and summer clothes in the winter. That way we can get at our off-season clothes if we need to, and we don't have to clutter our dresser space with seldom-worn clothes. These are similar to the ones we have.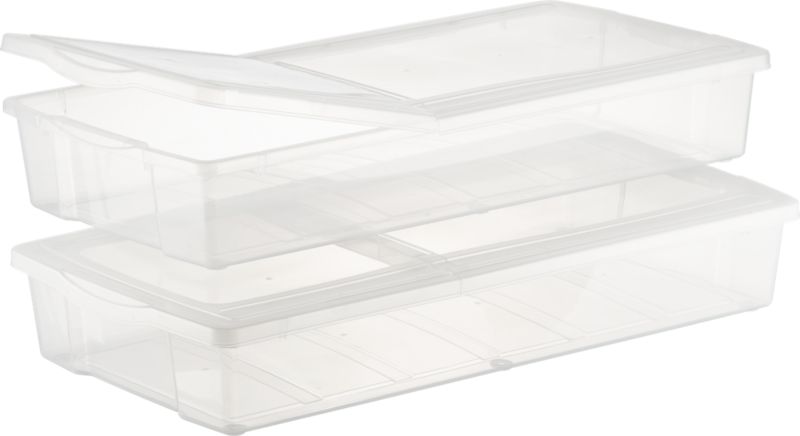 I'm in love with these ones with the flip open tops from
Crate & Barrel
. I have to say that clear is the way to go on these storage containers -- otherwise I would have to check every single one before I found what I was looking for. (Maybe a label maker would come in handy too???)
I also really love these more elegant looking ones from
The Container Store
too (and HEY, they're brown and blue!!):
As for closet accessories I'm a huge fan of a belt hanger (also good for scarves!). This one is from
The Container Store
too.
Our closet will definitely be redone in the future. It's not high on our priority list as we have other closets we can use in the meanwhile. But someday I will be cleaning it up and making room for all my hanging things. Right now Kevin hogs the whole darn thing! Just kidding -- it's a good arrangement for now as he definitely has more hanging clothes than I do.
A picture of my dream closet? Heeere you go:
Do you recognize it? It's the closet that Big makes for Carrie in Sex and the City. Sadly I think we'd have to take over two bedrooms in our house for a closet like that. But oh, to dream!
So our future closet redo won't be quite like this, but definitely organized.